8th Annual Christmas 4 Kidz Project
We're gonna bring COMFORT & JOY to kids in need this Christmas!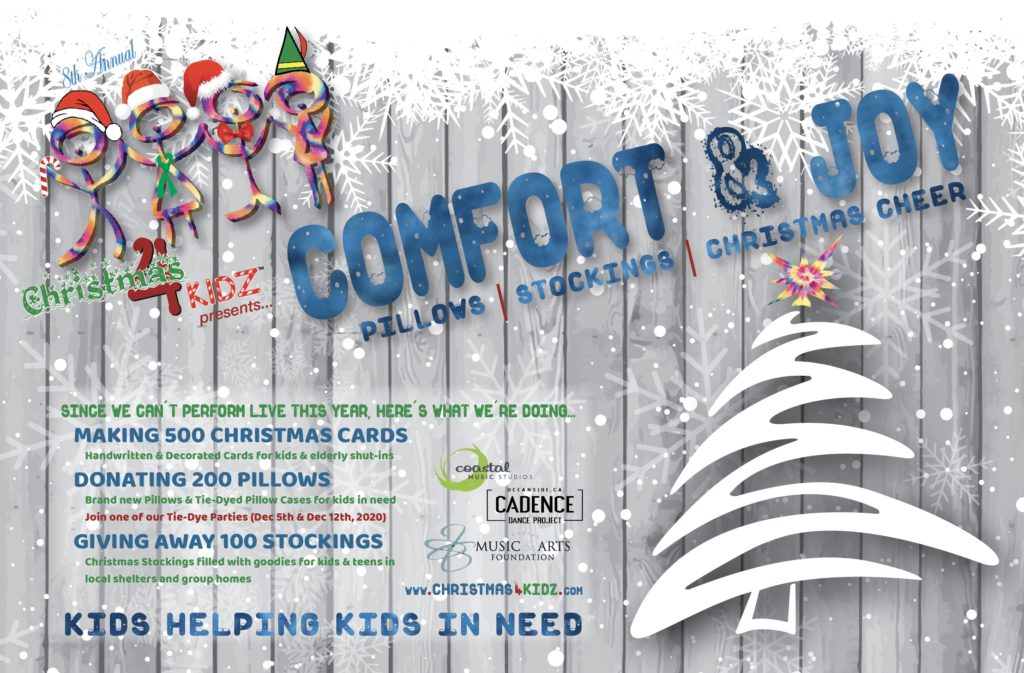 Christmas 4 Kidz 2020 would be our 8th Annual Charity Concert. Since we can't perform live this year, we wanted to keep the spirit of our event alive with "Kids Helping Kids In Need."
The 'Christmas 4 Kidz COMFORT & JOY' project is working with several local charities who serve children in low income communities, family shelters and group homes to be Santa's Helpers this year!
Here is how students and families and you can participate this year…
100 Stockings
Our goal is to give away 100 Christmas Stockings for kids of all ages! You can help by donating a filled Christmas Stocking for a Boy or Girl ages 3-7, 8-12 or 13-17. Filled stockings can be dropped off at Coastal Music Studios or Cadence Dance Project.
200 Pillows & Tie Dyed Pillow Cases
We're planning to donate 200 brand new Pillows & Pillow Cases to children this Christmas. You can help us Tie-Dye Pillow Cases at one of our Tie-Dye Parties on either Sat, Dec 5th (10am-1pm) at Coastal Music Studios; or Sat, Dec 12th (10am-2pm) at Cadence Dance Project. 

Want To Donate Pillows? CLICK HERE to donate and help us purchase pillows 4 kidz.
500 Christmas Cards
Starting Mon, Nov 16th there will be card making stations at both Coastal Music Studios and Cadence Dance Project. Our hope is to have 500 Christmas Cards handwritten and personalized for children in need, and also elderly shut-ins, so they will know someone in their own community is sending love and Christmas Cheer their way this holiday season.
It's our sincere hope that each of you in our amazing Christmas 4 Kidz community will join us in bringing COMFORT & JOY to others this year.
If you have any questions about how you can be part of this exciting project, please feel free to call Andy or Chris at 760-237-8212, or email [email protected].
Merry Christmas!
Christmas 4 Kidz is a charitable initiative of the Coastal Music & Arts Foundation; a 501(c)3 nonprofit, so your contributions are tax deductible. (Tax ID #82-2005366)